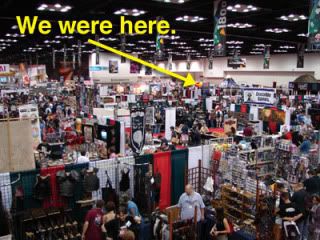 Every year since 1968 gamers all across the globe have gathered together to share the one love that they all have with one another. Gaming! Between 25 and 30 thousand people attend gencon each year, ranking it ahead of E3 in attendance! Gencon'rs attending can expect a plethora of options whether its anime, film, role playing, LARPing, CCG's, Electronic PC and Video gaming, comics, artists, board games, and probably other things I'm forgetting. One thing is for sure, like the catch phrase says, this is truly 'The greatest 4 days in gaming'!!
This years show kicks off August 5th and runs till the 8th(Thurs-Sun), from downtown Indianapolis, IN. The Exhibit hall, Auction hall, and most events run from 10am-8pm daily. While along side that many, MANY events run around the clock 24 hours a day.
This years event will be the first time since 2007 that our group will be in attendance. Barring any last minutes problems, this should be the best most relaxing escape into gamer land that I've ever experienced.
Our plans as of now are to stay in an attached hotel, directly across the street from the convention. Play as many awesome games, enjoy many fan films, see some anime, party our asses off at the Gencon Dance. Pick up some goodies at the Exhibit hall. Pick up MORE crazy goodies at the Auction Hall (The deals in this place are off the charts!)!
Some events we plan on attending: Hamlet Vs. Macbeth- The Shakespearean showdown, Midsummer's Nightmares scream on Elm Street, Hickman's Killer Breakfast, Marc Gunn and The Great Luke Ski Live! and more!!
We're going to work hard on taking many pictures and video of this years convention. So expect to see some of those here sometime around mid August.
Are you attending this years Gencon?
for more information check out www.gencon.com
Maybe see you there?
-TS